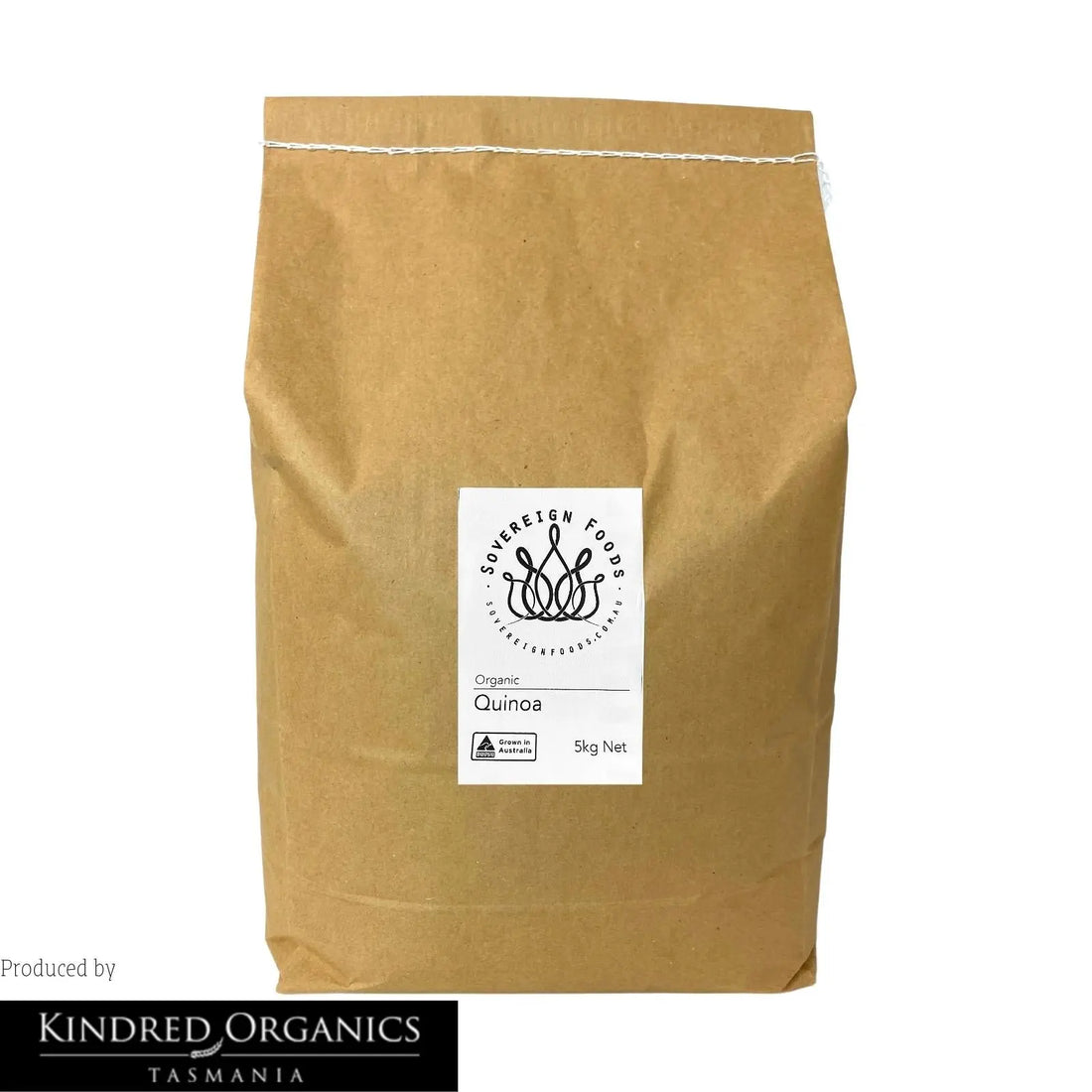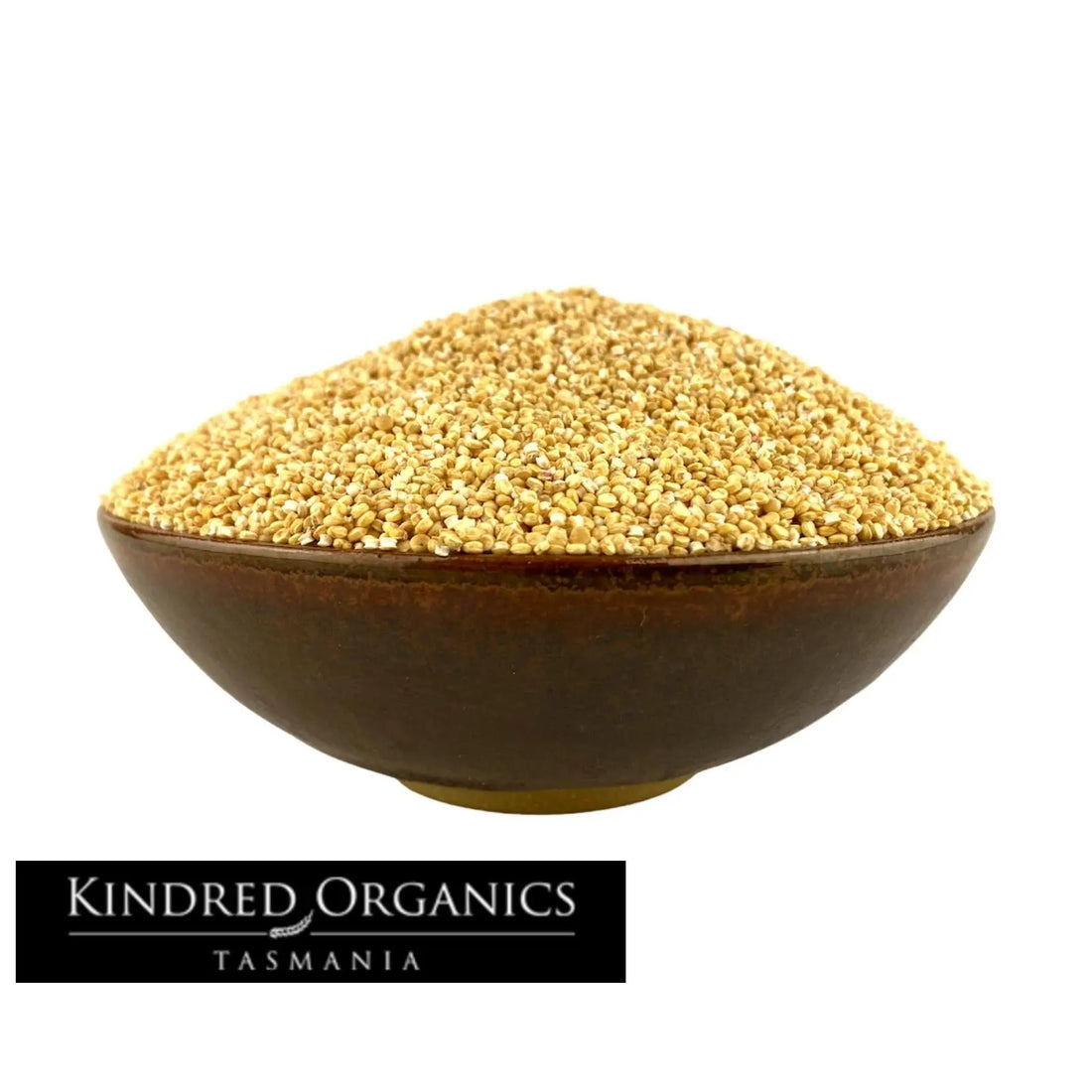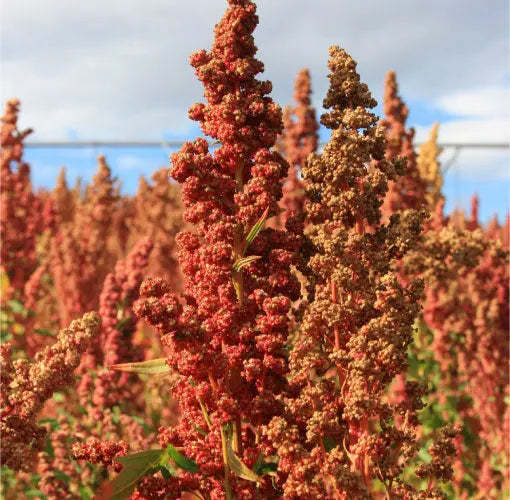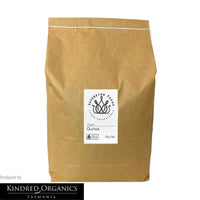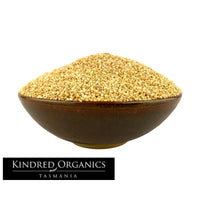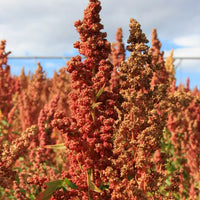 Quinoa is a pseudocereal from the amaranth family closely related to spinach. High in protein, B vitamins and fibre, Quinoa originated in the Andean region of South America, Our quinoa however is grown by the Damen Family of Kindred Organics, the first organic commercial quinoa grower in Australia.
A favourite around our house, quinoa has a mild and nutty flavour, and a light and fluffy texture. Quinoa should not be soaked before cooking as it has a natural bitter saponin coating that needs to be removed. If you soak it before cooking the flavour from the saponin will soak into the quinoa you will not be able to remove the bitter taste.
To prepare:
Wash the quinoa thoroughly by pouring the quinoa in a bowl, cover with water and rub the quinoa in your hands.

Repeat 2 or 3 times replacing the water each time and rinsing the quinoa under running water between each wash.
To cook:
Place 1 ¼ water to 1 cup of dry quinoa in a pot on the stove covered with a pinch of salt and a teaspoon of oil.
Bring to boil, reduce and simmer for 5 or so minutes and turn off the heat.
Allow to sit and absorb the rest of the liquid for about 10 minutes
Take the lid off fluff with a fork to let off the steam.
Serve warm or allow to coil and use it in salads later.
Little tip: add some flavour into the water when you boil to give the quinoa a little kick. We like ½ tsp of curry powder and lime juice at home, but you can use stock/broth instead of water or whatever you like. If you use stock omit the salt in the first step

Product repacked by Sovereign Foods in compostable bags.
Our Bags are made from brown recycled paper and have a 100% natural corn-based compostable biofilm. All you need to do is pop off the label before you put it in your compost (We are looking for a cost-effective compostable solution to our labels). These bags are a good short term but are not completely airtight. When you get your goodies home, be sure to pop your products into a jar and store them in a cool, dry place out of sunlight. You can reuse these bags around the house as a short-term solution to keep things dry and reduce air contact.
Product packed in a facility using equipment Shared with products that contain Nuts, Soy and Gluten
Weight: 5.05 kg
Dimensions: 230 mm x 110 mm x 355 mm